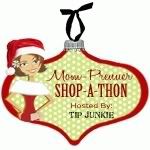 Chances are that since the weather has cooled and the days have gotten shorter, you too have thought about holiday gift giving. And chances are that since the economy is in big trouble and the corporations are receiving bailouts, you too have thought to make your purchases from hardworking "Mom & Pop" shops. And chances are that because you have heard so many horror stories about the horrendous manufacturing processes of all those toys that are made in China, you too have thought maybe it is best to buy locally made and/or handmade goodies.
Well good. I have an idea for you … head on over to the Mom-Prenuer Shop-A-Thon to check out all the wonderful handmade, non-toxic, no bailout, goodies that these hard-working Moms (and sometimes Dads) have put together for your holiday shopping (me included). You will be glad you did. Yummy, yummy goodies galore.
And if you still need some holiday shopping help after that … always check out your local craft shows. I will be presenting at one tomorrow in Eddington, ME. I'll let you know how it goes.
Enjoy your weekend.
Love,
Jodi